#29051A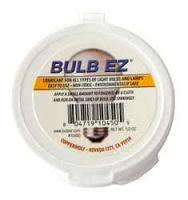 Fast Facts
Description: BULB EZ 1 / 2OZ #10450 Package Qty: 36 Case Qty: 500 Length: 1" / 25.40mm Width: 3" / 76.20mm Height: 2" / 50.80mm Add Info: Bulb Ez is a lightweight, non-toxic lubricant that prevents light bulbs and lamp from freezing, sticking or breaking in their sockets.
Bulb Ez ensures smooth installation and removal of light bulb and lamps.
Bulb Ez is not silicone based and can be use in any environments.
29051A Z BULB EZ 1/2OZ #10450
Package Height: 7
Package Width: 7
Package Length: 3
Package Weight: 0.5
Case Height: 7
Case Width: 7
Master Length: 3
Case Weight: 0.5