#38663A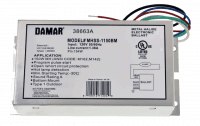 Fast Facts
Description: EL150WMHBLS 150W 120V (D)
D EL150WMHBLS 150W 120V Brand:

Watts: 150 Life: Date Coded Package Qty: 1 Case Qty: 20 Length: 6.85" / 173.99mm Width: 3.58" / 90.93mm Height: 1.73" / 43.94mm Vend Add: UL Multi Listed
IP 65
Max Tc 90 Degrees C. Add Info: ALL WIRE LEADS 248.92MM LONG
MOUNTING LENGTH: 163MM
START/OPERATION METHOD: (M102 & M142)
BOTTOM LEADS
RoHS
UL MULTIPLE LISTING
Bottom mounting studs. Center to center 2.0" Height 0.35" 8-32
38663A D EL150WMHBLS 150W 120V (D)
No cross reference Items at this time. Please call one of our helpful lighting experts for assistance finding more matching items.